The Citizens for Solar held the 33rd Annual Solar Potluck at Catalina State Park in Tucson AZ, on April 11, 2015.  I had been wanting to join them for several years, but there was always something else on my calendar. This year I finally made it Tucson.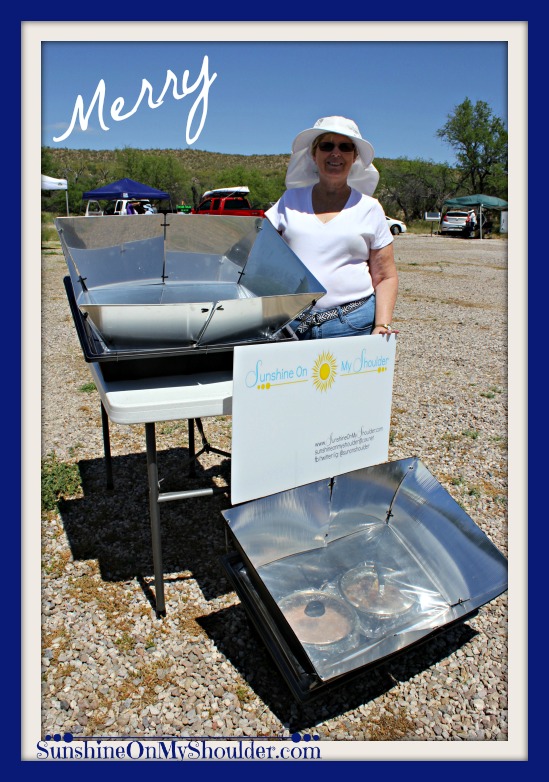 Tucson is just a two hour drive from home. The potluck was held in the beautiful Catalina State Park. We were ringed by mountains. It was a great day for a solar cookout. Although a little hazy, there were only a few clouds in the sky. The temperature was in the mid-80's with a slight breeze. Plenty warm enough, without suffering heat stroke!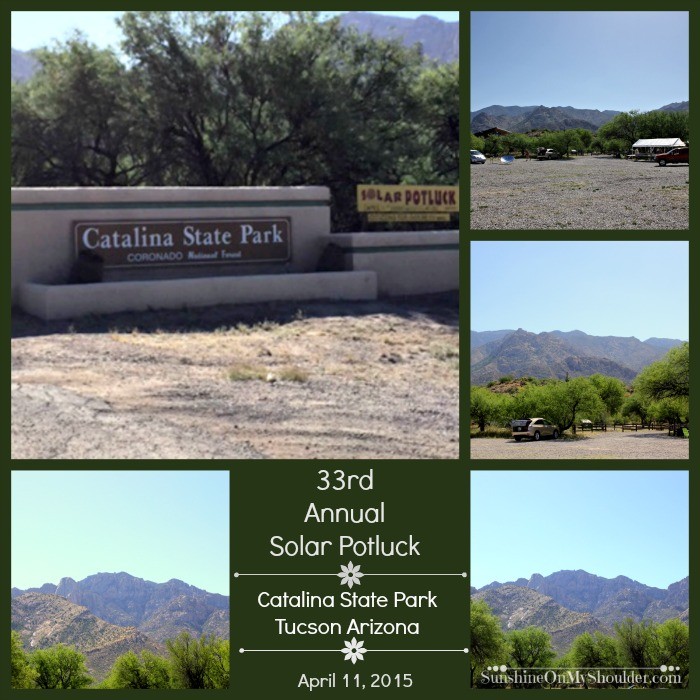 We arrived bright and early in the morning so there would be plenty of time to cook, to meet new friends, and just visit. Since we were traveling so far, I had planned my menu and necessary equipment very well. So it really only took us a few minutes to get setup, get the food in the oven, and get ready to make the rounds talking to our neighbors.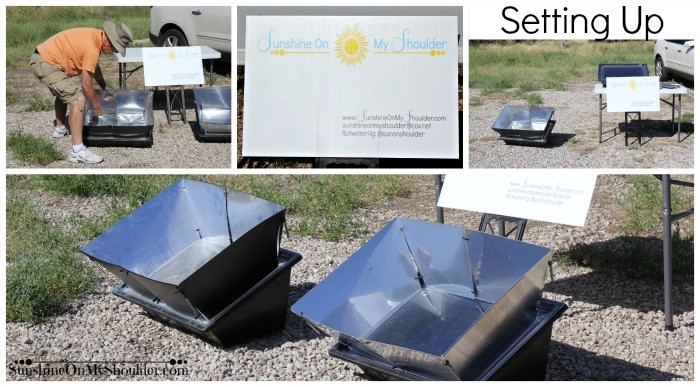 Our closest neighbor was a couple who were there to promote a program called "We Share Solar".  They obtain grants to put together suitcase size solar generators. They have a volunteer labor force of high school students who help put the generators together. The generators are donated and shipped overseas to third world countries to improve their living conditions, and lives. Thanks Jill for sharing your shade with me.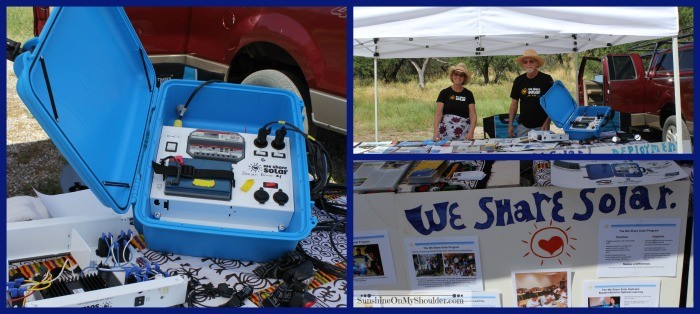 One really interesting display was set up by the 5th/6th grade class from nearby Mountain Vista grade school. Their school project was to build solar ovens. They were eager to talk about their project, described some of the problems they had building the ovens, and how they solved those problems. They even shared some brownies they had baked. Congratulations to the teachers and parents of those bright, positive, energetic, and very smart students. I loved seeing them there.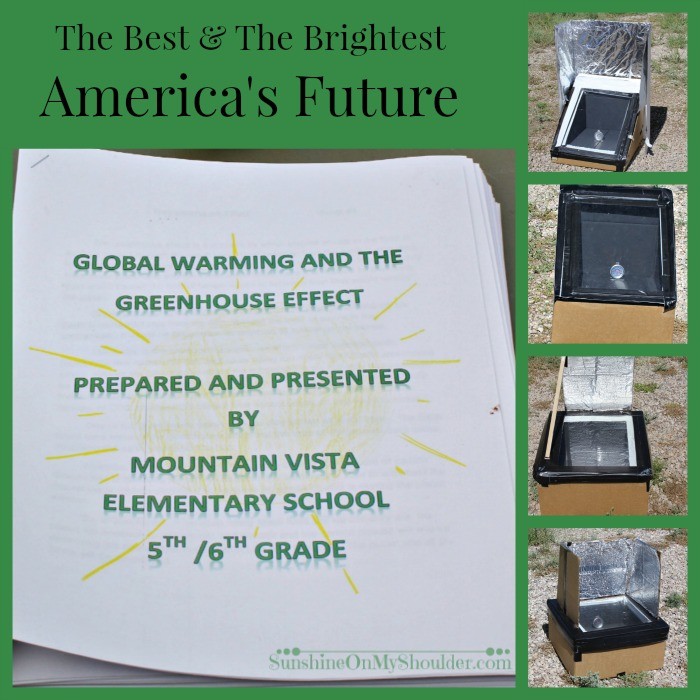 I think there were about 25 different solar cooking setups.  The public was invited so there were plenty of people walking around learning about all of the different ovens. There were plenty of the Global Sun Ovens, a SunFlair, some parabolic cookers, and some homemade ones too.  There was even a solar motorcycle. I took 2 Solavore Sport solar ovens. Most people had never heard of the Sport so it was fun to extol the merits of this great solar oven.  Here are some solar friends we met from SolarSlowCooker.org.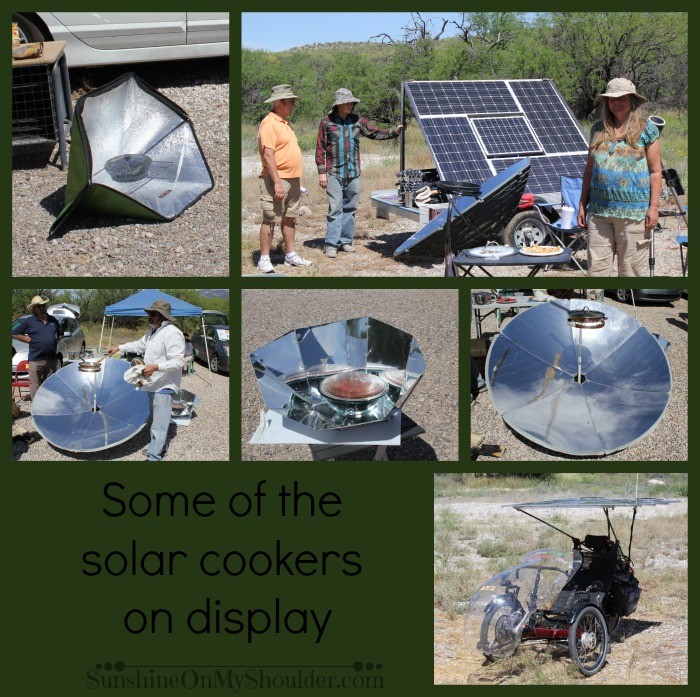 The day was filled with music and laughter and fun. I asked this musician to play "Sunshine On My Shoulders" by John Denver. He assured me that he probably knew it, asked me to sing a few bars, which I did; but in the end, he said he didn't have the music with him, so couldn't play it. But he said, he would play another "Sunshine" song. He played "Sunshine Superman" by Donovan. Not really a "Sunshine" song, even though it starts out with "Sunshine came softly through my window today"; but it was a nice gesture. Thanks Mr. Music man. Sorry I didn't get your name.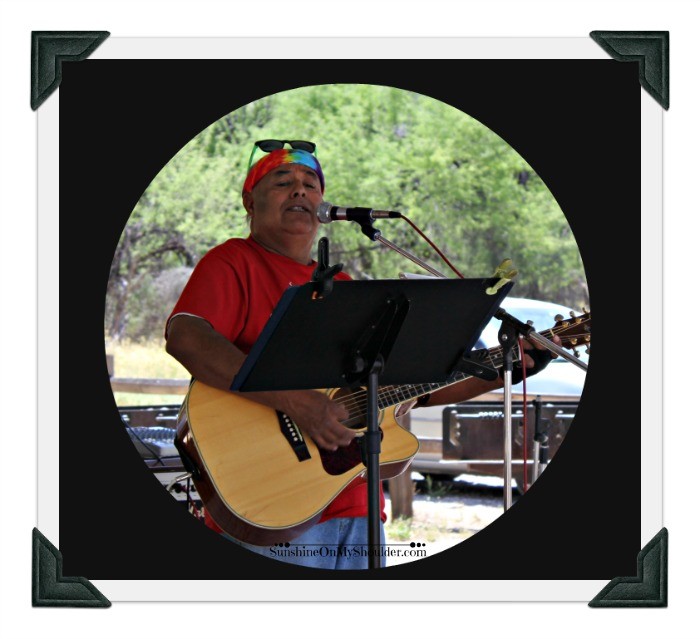 I also asked the next group if they could play "Sunshine On My Shoulders" by John Denver. They agreed it is a great song, but they didn't know it either. Oh well, they were still very entertaining.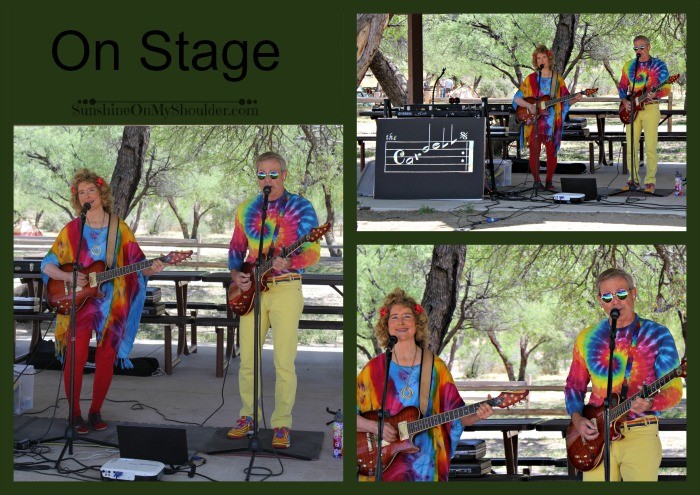 All of that cooking and all of that standing in the sun talking made me a little bit tired. So I took a little rest. I even took a little nap.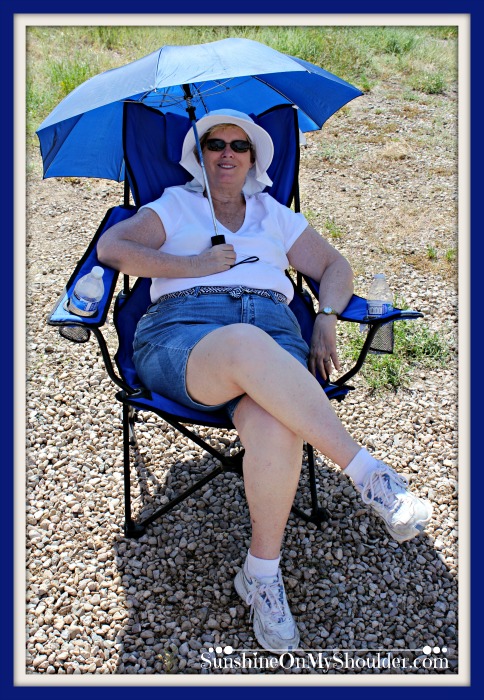 Later in the afternoon, we spotted this bad boy. Do you know what it is?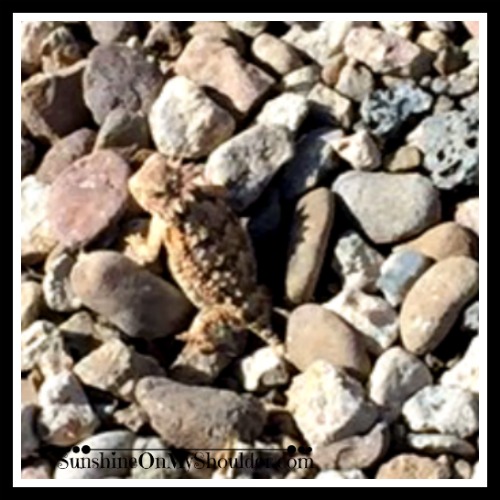 Yes it is a horned toad. We called them horny toads back home in Texas, and we used to play with them and keep them as pets.
I am contributing a pot of pinto beans, a pot of BBQ beef- Texas style – just the way I learned how to make it at my mother's elbow, and 2 Caramel Apple Dump cakes. YUMM!! The pictures were taken at suppertime as you can tell by the shadows in the pots. The BBQ and beans cooked about 6 hours. The cakes took 2 hours.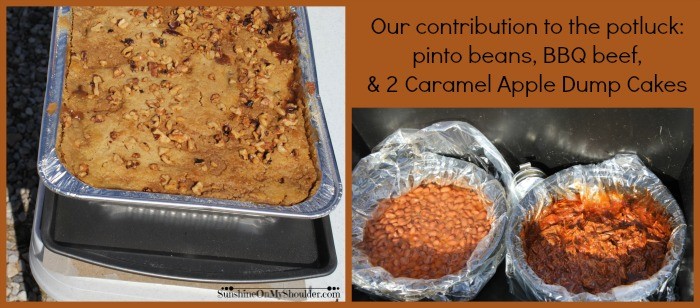 Potluck time at last!! We are hungry and so is every one else. All the food was put on the tables. And it was serve yourself. They came fast and the food went fast. None of my dishes were left. Every thing was eaten. It was delicious.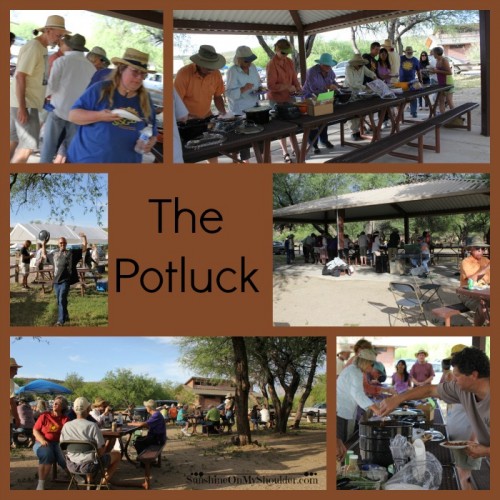 And, by the way, you may be asking yourself, "What is the plastic wrap in the pots for?" Those are crockpot liners. I used them to make clean up easier because I didn't want to drive 2 hours back home with dirty dishes. Worked like a dream. Out came the liners  — and Voila!! — clean pans.
So it was a great day for us. Drove home hot, happy, and tired. Thanks for the great time Citizens of Solar. See you next year.
If I met you at the potluck (or even if I didn't) please leave me a note. And if you would like my recipe for Caramel Apple Dump cake,