Solar Simple Cheese Danish is easy to fix, quick to cook, and can be served by itself as a quick snack or with a nice breakfast omelet.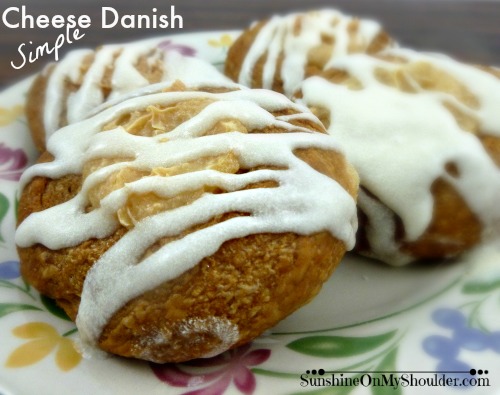 Solar Simple Cheese Danish
Set the solar oven out to pre-heat while preparing the recipe.
1 can crescent rolls

1 4oz pkg of cream cheese (room temp)

1/4 cup white sugar

1/2 tsp vanilla
In a small mixing bowl, cream the cream cheese, sugar, and vanilla.
Carefully open the crescent rolls, but leave in a cylinder shape.  Do not unroll the dough.  If possible, chill the dough for several hours to make it easier to slice.  Slice into even pieces about 1/4″ – 1/2″ thick.  Place onto a greased cookie sheet.
With a spoon, press a hole in each slice.   Add a spoonful of  cream cheese filing.
Bake uncovered in a hot solar oven for about an hour or  a little longer.  (Or bake at 350º for 15 – 20 minutes in the kitchen.)
Sugar glaze topping
1 cup powdered sugar

1 TBSP milk

1 TBSP butter or margarine, softened
Mix the sugar, milk, and butter in a small mixing bowl. Use a spoon to drizzle over the top of the warm rolls.
My danish cooked in a hour and 15 minutes on a bright sunny day.  Outside air temp was 84º. Oven temp ranged from 250º – 275º.
MMMMM!!   So easy, So Good, So Solar!

This is part of my Kids in the (Solar) Kitchen series.