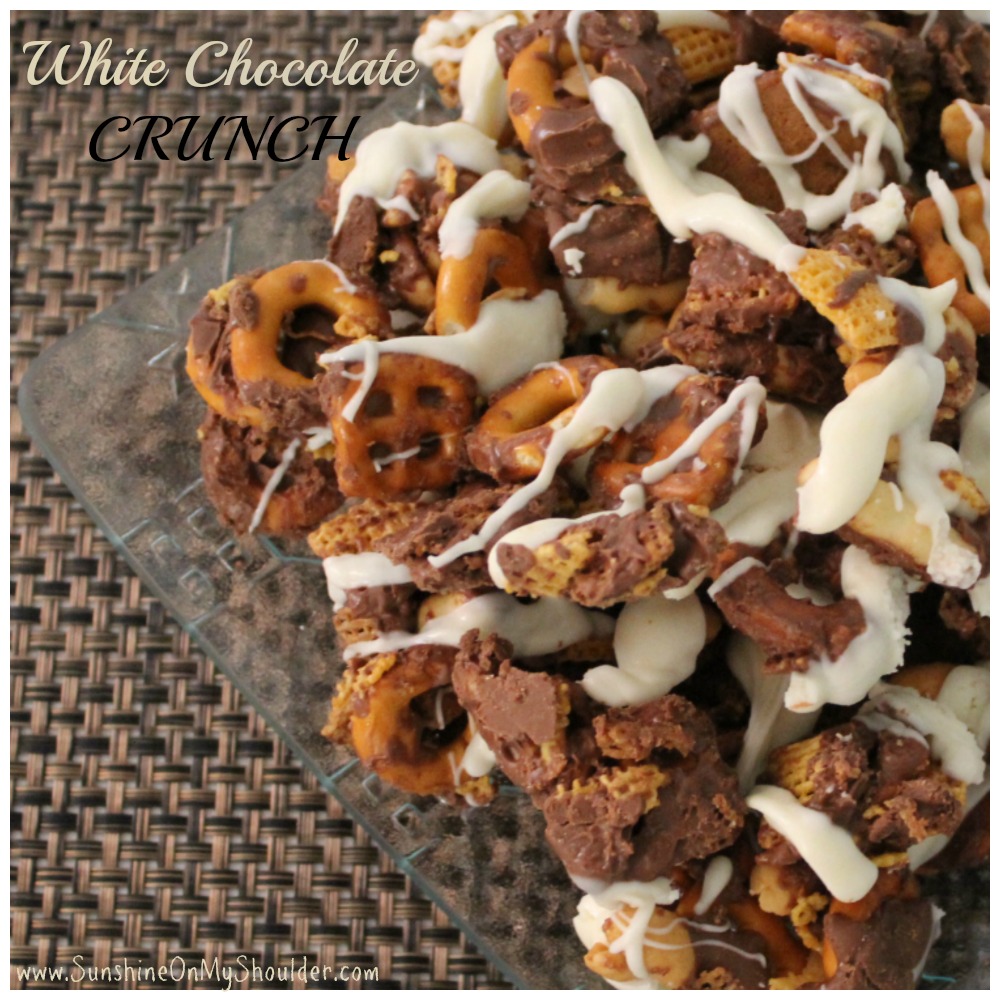 Whether you are planning a big Super Bowl party, or a game night with family and friends, a big bowl of crunchy snack mix is a huge crowd pleaser. White Chocolate Crunch Mix is an easy snack, finger food recipe. It combines salty and sweet, an irresistible combination — at least it is for me.  It is such a great party food that you better make a double recipe, because everyone will be wanting more.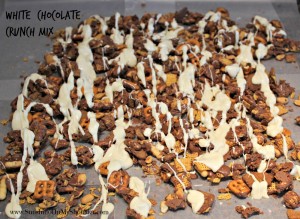 White Chocolate Crunch Mix
Ingredients
4 cups crisp rice cereal, corn cereal, mini pretzel, corn chip, etc.
1 cup peanuts or mixed nuts
½ pound white almond bark
½ pound chocolate almond bark
Instructions
Pre-heat the solar oven. Chop the white almond bark into small pieces and put into a heat safe cup with handle. Do the same with the chocolate almond bark, placing it in a separate heat safe cup with a handle. Place in hot solar oven, either covered or uncovered. Heat until melted. It will not look melted. Stir the hot almond bark to make it smooth. The cups will be very hot so be sure to use a potholder.
Mix any combination of crisp cereal, such as rice chex, corn chex, cherrios, and mini pretzels to make 4 cups of cereal. Mix in 1 cup of peanuts or mixed nuts. Spread the cereal mixture out on a wax paper surface. Drizzle the melted chocolate almond bark over the cereal. (Not all of the cereal will be drizzled with the chocolate.) Let the chocolate cool and set. Leave the white almond bark in the solar oven until needed. Then drizzle the melted white over the cereal mix being sure to cover the areas missed by the chocolate. Let set until firm. Store in a covered container.
Time needed to melt and heat the almond bark will be about an hour. The length of time required will vary depending on the type of solar oven, the weather, the temperature of the oven, and the amount being melted.
Notes
The almond bark can also be melted in a heat safe bowl in the microwave. Use a cup with a handle to make it easier to drizzle the melted almond bark.
Here are some other great party mix ideas.
Chinese Noodle Candy
Chocolate Peanut Clusters