Zucchini Bread, a solar cooking recipe, is a perfect treat or dessert, served warm with a cup of coffee or hot tea.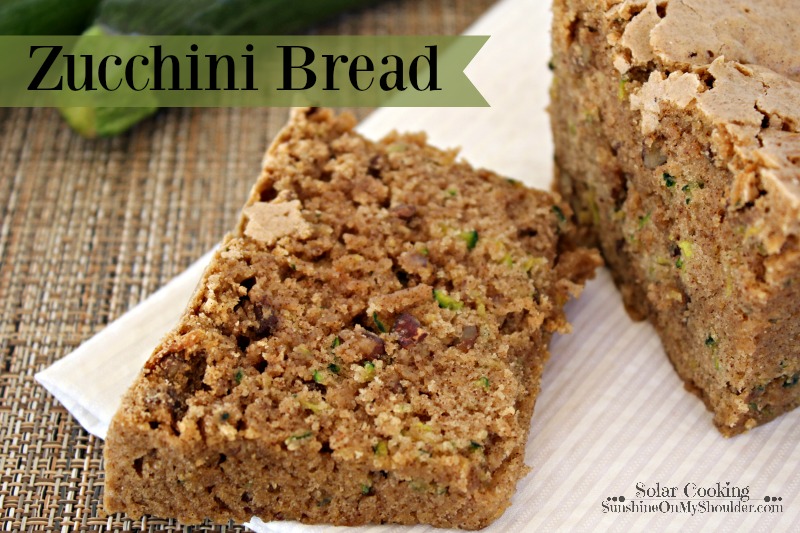 My sister loved zucchini bread. She would always have a loaf ready to serve when visitors came over. But I didn't like it. I knew I wouldn't like it. And so I never even tried it. Why? Well it was made from zucchini. And in my childish brain, I just knew that it couldn't be any good. I must also admit that at the time, I also didn't like pumpkin bread, carrot cake, etc. I'm sure you get the picture. But I was so very wrong! Eventually I grew up, and moved away from home. One sneaky day, my mother sent me and my new husband a care package of goodies. In it were two very delicious loaves of (unlabeled) quick bread which I thought were banana bread. When I asked for the recipe, I found one was her recipe for pumpkin bread and the other was my sister's recipe for zucchini bread. I have loved it ever since.

I baked my Zucchini Bread in an All American Sun Oven for 1 1/2 hours at 300 degrees F. The time it takes to cook in a solar oven will vary depending on the type of oven, the weather and how focused the cooker is to the sun.
Carole's Zucchini Bread.
Zucchini Bread: Solar Cooking Recipe
Zucchini Bread is a solar cooking recipe. It is a delicious treat or snack.
Ingredients
3 eggs
1 c oil
2 c sugar
2 heaping cups of finely shredded or grated zucchini, about 2 sm zucchini
3 c flour
¾ c chopped nuts (opt)
1 tsp vanilla
1 tsp baking soda
1 tsp salt
2 tsp cinnamon
¼ tsp baking powder
Instructions
Pre-heat solar oven while preparing the ingredients.
Beat eggs until light and foamy.
Add oil, sugar, and zucchini. Mix well.
Add flour and spices. Mix well.
Add nuts if desired. And mix well.
Pour into greased and floured loaf pans.
Place into hot solar oven and bake uncovered until a toothpick comes out clean.
Notes
The time it take to bake in a solar oven depends on how hot the oven gets, which depends on weather, type of cooker, and how focused the cooker is to the sun. My zucchini bread cooker for 1½ hours at an oven temperature of 300 degrees F.

This recipe makes 2 standard loaves.
For a conventional oven, bake for 1 hour at 325 degrees F.
Thanks for solar cooking with Sunshine On My Shoulder.