Have you ever heard of solar cooking? It is the perfect way to cook outdoors, whether you are camping, or in an emergency, or during a power outage, or just in your own backyard having fun.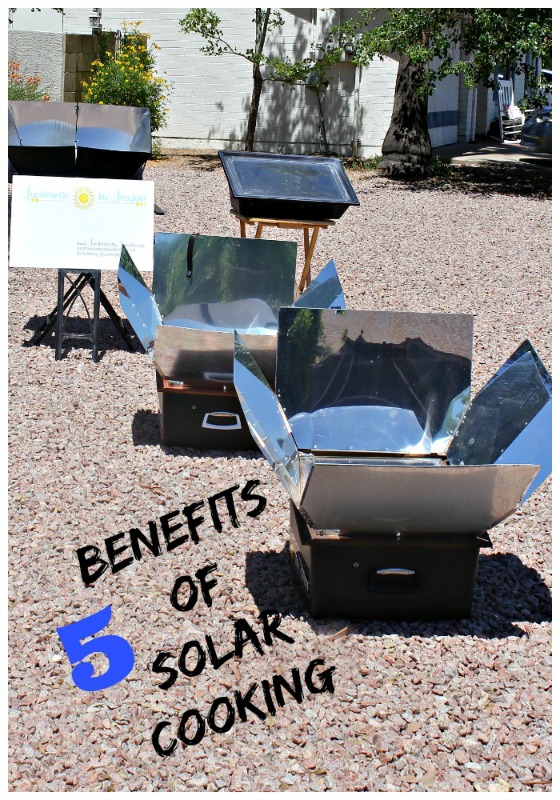 What is Solar Cooking?
Solar cooking is a method of preparing food that uses the free energy from the sun as the fuel source. Solar cooking is becoming more and more popular around the globe – and with good reason. The benefits of solar cooking are many, and the disadvantages are few. Here are 5 benefits of solar cooking.  Please read About Solar Cooking to learn about the different kinds of solar cookers.
Benefits of Solar Cooking
Economics

The energy that comes from the sun is free and inexhaustible.  Without the need to buy fuel – whether it is gas, electricity, charcoal, wood, or dung — there is more money left in the purse to purchase other necessities. The choice shouldn't be food or fuel.
Heating up a kitchen to cook dinner – especially in the summer time — will kick an air conditioner into overdrive to cool the room back down. A solar cooker sitting out in the sunshine does not heat up the kitchen. Electricity bills can be reduced with the regular use of a solar oven.
In underdeveloped countries, the use of solar ovens often provide enough food that women can sell the excess to help provide for their families.
Environmental

We are all dependent on the earth's limited resources of fossil fuels. And the dwindling forests are being depleted for firewood. Cooking with the sun reduces the dependence on these resources.
Burning wood, charcoal, fossil fuels, and other types of fuel contribute to the ever increasing global air pollution. Because there is no fire and no flames, there is no air pollution. Because there is no fire and no flame, solar cookers can be used in "no burn" areas and on "no burn" days. So it is perfect for camping in areas with fire restrictions.
Because solar cookers use the sun and you use less fuel, there is less garbage to deal with. There are fewer bottles of butane to carry to a campsite, and fewer bottles to carry out of a campsite. And, of course, fewer empty butane bottles in the landfill. Large solar ovens have been built on top of Mt. Everest for this same reason – fewer bottles of fuel to carry up and down the mountain.

Health

The use of solar ovens not only reduces air pollution outside, it reduces air pollution inside as well. Smoke from cooking fires irritates and injures the lungs and eyes. With fewer open cooking fires and less smoke, the health of women and children around the globe is improved.
Whether it be in a village hut or on a suburban patio, open cooking fires and hot barbeque grills present a danger to everyone, but especially to children.  Using a solar oven, with no open flames, prevents burns and is safe for children to play around.
In developing countries, women and children must leave the safety of the village every day, walking further and further distances, to gather a days worth of firewood or dung for the cooking fires, exposing them to dangerous animals and dangerous people. A solar oven keeps them safely in the village, out of harms way.
Unsafe water is the cause of 80% of all illnesses and deaths in developing countries.  Millions of people die every year from those diseases. Water can easily be pasteurized in a solar oven, because water does not need to be boiled to be safe. Heating water to just 150 degrees (65 degrees C) pasteurizes it and makes it safe for drinking. Food can be pasteurized at 180 degrees (82 degrees C). A simple, inexpensive device known as a WAPI (WAter Pasteurization Indicator) can be used to determine when the water is safe.
When camping, a solar oven can be used to heat water from clean water sources to be used for doing dishes or bathing, as well as drinking and cooking. Again, a WAPI can be used to determine that the water is safe.
Solar ovens can be used to sterilize dishes and medical equipment.

Cooking

Cooking in a solar oven is easy.  Food cooks slowly (much like a slow cooker), so it does  not need to be constantly monitored. Therefore, time is freed up to enjoy other pursuits.
Solar cookers can bake, boil, steam, or roast. Most solar cookers reach and maintain temperatures between 250 degrees and 350 degrees, plenty hot enough to cook. Parabolic cookers reach extremely high temperatures that can fry and grill.
Keeping the heat adjusted only requires keeping the cooker focused into the sun.
Solar cooking generally requires less water to cook because the water does not boil away taking valuable nutrients with it.
Food cooks slowly and the cooking times are very variable and forgiving. Most food does not burn in a solar cooker. Food cooked longer tends to become more tender and moist and flavorful. Foods with a high sugar content such as cookies will eventually burn, but even that has a long flexible cooking window .

Self – sufficiency

Solar cookers are portable and can be taken almost anywhere – camping, boating, tailgating, picnic-ing.  They can be used anywhere a hot meal is needed or desired.  Solar cookers have been used on mountain tops, on sailboats, and by moms sitting out by the soccer field.
In times of power outages due to storms or blackouts, a solar cooker allows you to cook a meal and feed your family.
Car break down or blow a tire? Run off the road or get lost?  A small solar oven, made from  items in your emergency bag, can heat up water, soup, or coffee on the side of the road while waiting for roadside assistance, providing warmth and comfort and peace of mind.

Disadvantages

Yes there are a few disadvantages to solar cooking. The primary disadvantage, of course, is that there must be sun. Solar cooking does not work at night, on cloudy days, or on rainy days. So that is when you pull out the butane, the propane, the charcoal, and the electricity.
Although, solar cookers will work in colder weather, the attainable temperature of the oven will depend on the amount of insulation in the oven.
High winds not only affect the temperature of the oven, but can also create problems with stability.
Northern climates will have shorter daylight hours to cook.
It is recommended to have back up fuel sources and cooking methods for these times. But using a solar oven, when it is possible, will stretch your existing fuel.
Solar cooking is fun. It is fun to be different and fun to talk to surprised and curious people. But solar cooking is a viable way to safely cook your food in areas where there is no fuel, and no electricity. Solar cooking can be life saving in times of emergencies or disasters.
There are many benefits of solar cooking. Do you have a solar cooker? How do you use it? Have you used it in an emergency? Do you have questions or thoughts about solar cooking? Drop me a a message. Tell me your story of solar cooking.
For more information on solar cooking, join my newsletter, or follow me on Facebook, Twitter, Instagram, or Pinterest.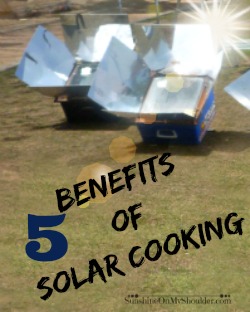 Thank you for solar cooking with Sunshine on My Shoulder.