6 Solar Oven Projects for Kids
Building a solar oven is a great school science project for kids.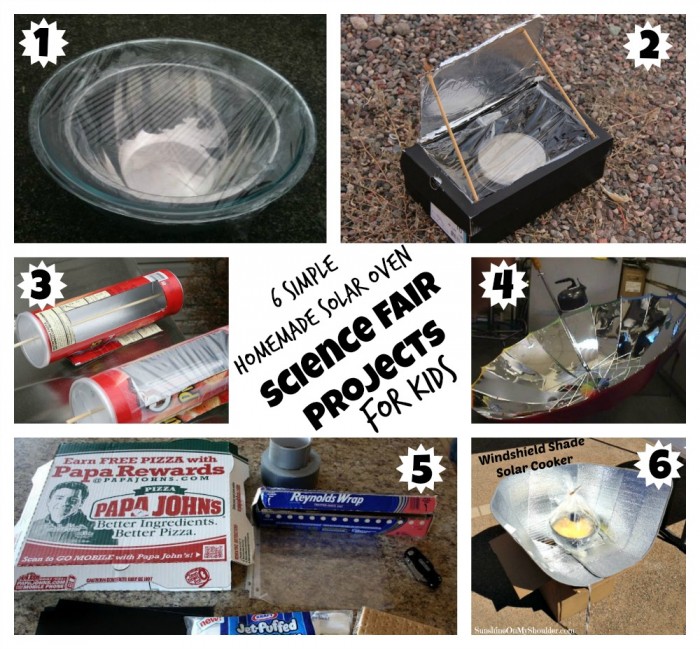 Whether at home, school, or scouts, homemade solar oven projects for kids are fun activities that can be incorporated into many different lesson plans, including:
Science : solar energy projects; solar power, effects of heat
Environment & Conservation : recycling; living green; energy & fuel conservation
Life skills & self sufficiency: cooking
Emergency Preparedness/Alternate fuel sources : cooking without fire/cooking without electricity
Health: making safe drinking water
HOW TO MAKE A SOLAR OVEN
To make a solar oven, three things are needed:
First, you need a heat-safe pot or container to hold the food. A dark colored metal or glass container works best and a handle makes it easy to hold and use. Metal mugs are sold at camping stores and Wal-mart. Be aware that this container will get very  very hot.   You will need a potholder.
Second, you must have a heat trap, something that can trap and hold the heat. This can be a tinfoil lined box with a glass cover, an upside down glass bowl, or a clear cooking bag. The heat trap will need to be closed tightly to keep the heat from escaping.
Third, you must have a reflector. Reflectors direct the sun rays into the heat trap so that the box will heat quicker.
Here are 6 solar oven projects for kids to make.
1) Solar Bowling Oven  This oven consists of two nesting glass bowls and a reflector made from cardboard covered with aluminum foil.
2) Shoe Box Solar Oven  This is very similar to the pizza box solar oven, but will hold a little bit larger cooking pot. So there are more menu possibilities.
3) Pringle's can Hot Dog cooker A very simple solar cooker can be made using a Pringle's potato chip can, or other similar shaped can.
4) Sunbrella  The Sunbrella uses an old umbrella to make a parabolic solar cooker.
5) Pizza Box Solar Oven  This homemade solar cooker is a very popular  solar oven project for kids. Maybe it's because they get to eat the pizza first. Or maybe it is because the materials are so readily available. It is a very easy project, but the younger children may need some help.
6) Windshield Shade Solar Cooker  The  windshield shade solar cooker makes a great solar oven project for the school Science Fair.  Despite it's low-tech and short-term look, it is actually a very efficient cooker . It is a lightweight and portable making it an excellent choice as an emergency solution cooker.
Bonus #7)  If you would like to make a more substantial solar cooker, take a look at the Purple Fig Solar Cooker designed by S. Clausson. It is lightweight, collapsible, inexpensive, and it works.  She has graciously shared her design on the internet.
As with any cooking method, the pots get very hot. You will need to take every precaution with hot pots that you would take in the kitchen. For very young children, I would suggest that adults do the cooking.
For safety tips, cooking techniques, and quick and easy menu suggestions to make in homemade solar oven projects, go to Kids in the (Solar) Kitchen. For additional cooking techniques, look HERE.
UPDATE:  Here is a very easy solar oven project that is suitable for even very small children. I developed the design and the recipes myself at the request of a kindergarten teacher for her classroom. It is low cost, quick and easy to make, and each child can have his own cooker. Please see Easy Science Project for Kids and the 6 Easy Recipes to use in this oven.
Solar Cooking!
So Easy!
So Good!
So Solar!
Thank you for solar cooking with Sunshine On My Shoulder.