It is quite easy to bake frozen pie in a solar oven.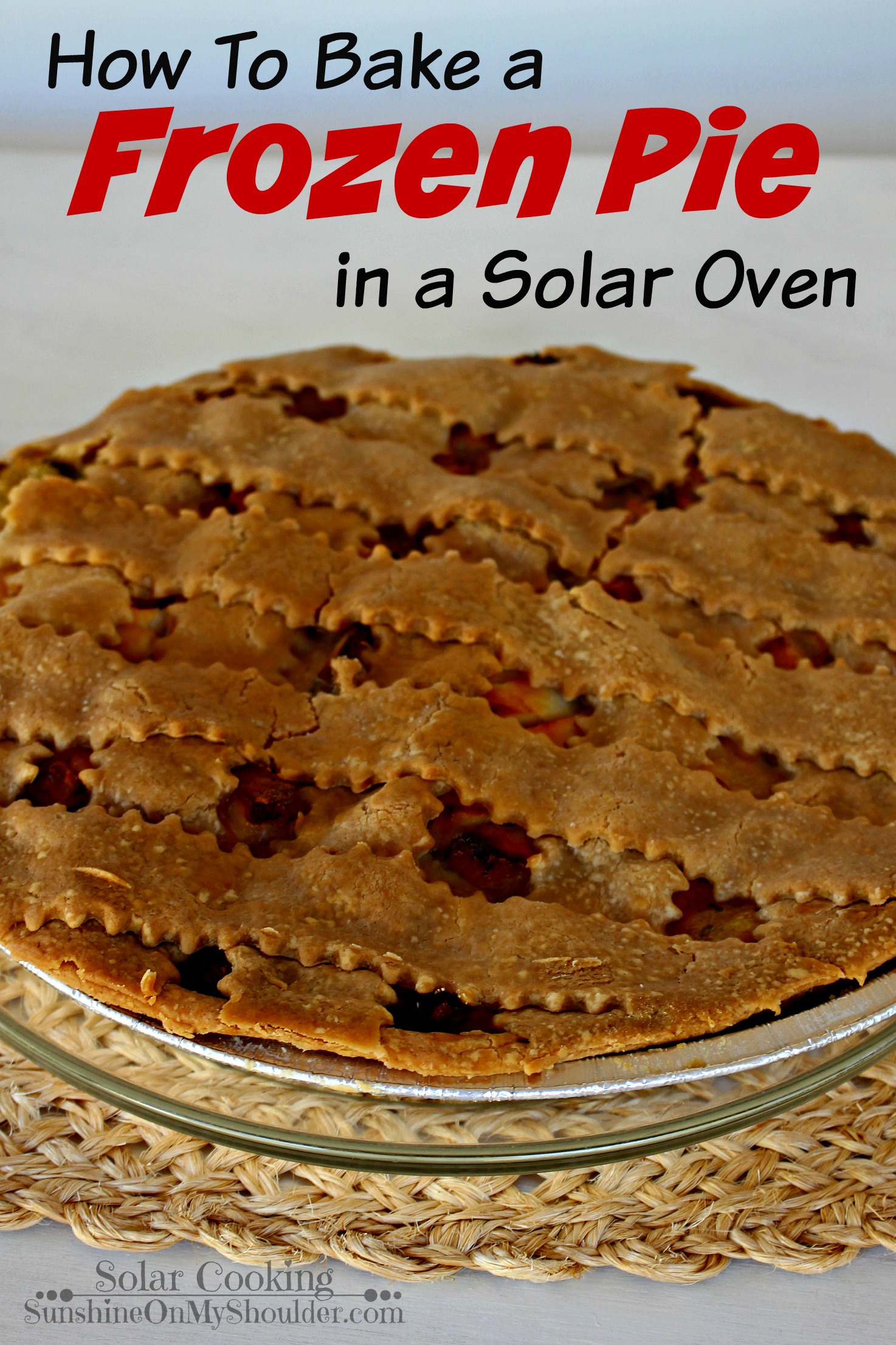 With all of today's modern convenience foods, it is no longer necessary to cook everything from scratch like our mothers and grandmothers did. Quite often I use box mixes and frozen foods from the grocery store, but I still like to cook them in my solar oven.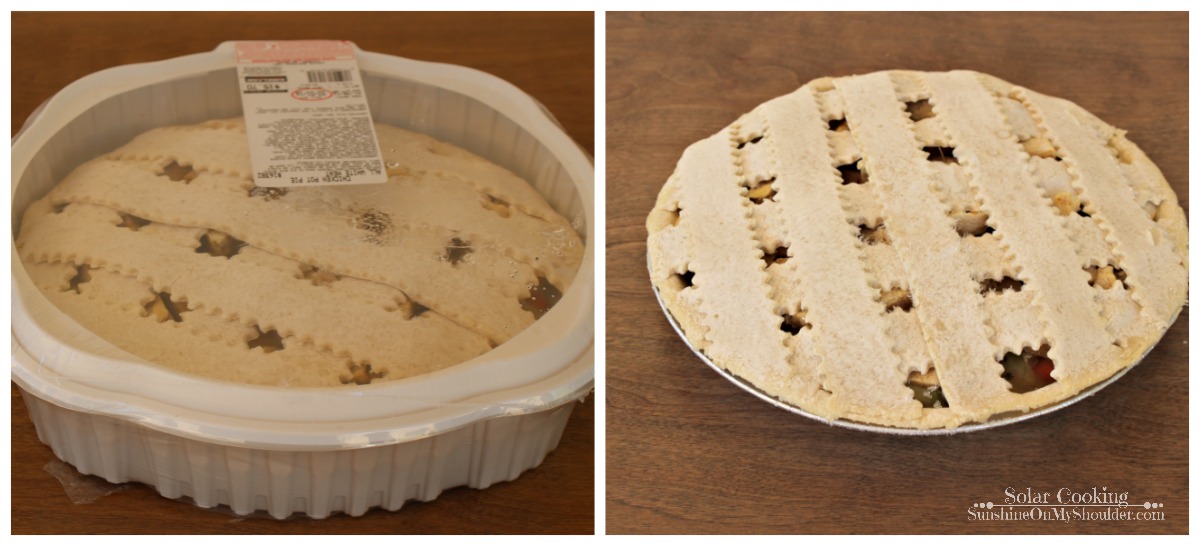 A couple of weeks ago, I picked up a large chicken pot pie from Costco. If you've been to Costco, I'm sure you've seen these big beautiful pot pies that serve the whole family — ok — I think it serves about 6 to 8 people — and for most of us, that is a whole family.  When I got home, I immediately placed it into the freezer for a later date.
The only problem with this, was that I could never think ahead enough to set it out to thaw so that I could cook it.  Until one sunny day, I decided to just pull it out, pop it into the solar oven frozen, and let it thaw and cook at the same time.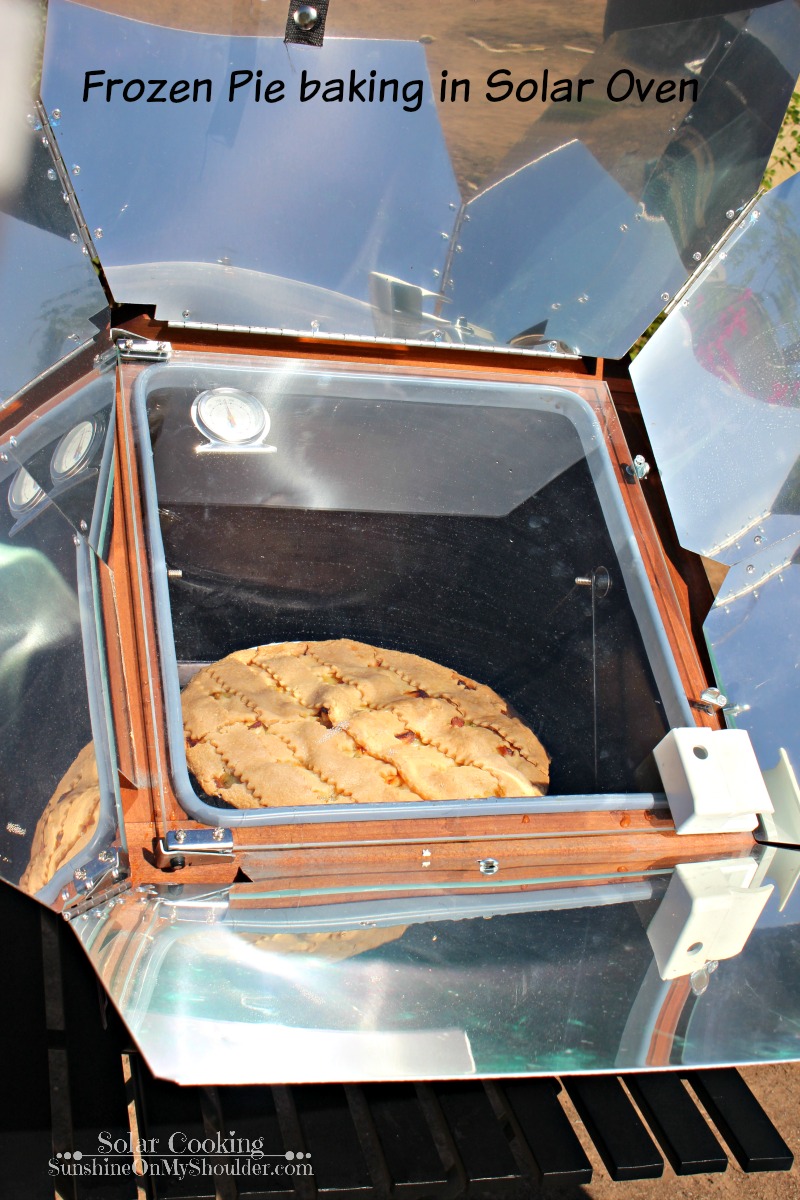 How To Bake Frozen Pie in a Solar Oven
Remove the pie from any plastic or cardboard wrapping.  If you have a dark solar recommended type pie dish that will fit your pie, slide the pie from the aluminum tin it is in into your pie dish.  But if your pie is oversized, then just leave it in its tin. Place the pie on a flat cookie sheet to help hold it. This will especially important when you try to remove the hot, cooked pie.
Place the frozen pie directly into a pre-heated solar oven.  The time needed to bake the pie will vary depending on several factors, including how large the pie is, how frozen it is, and the temperature of the oven. For more information, see How Long Does It Take to Cook In a Solar Oven.
My pie cooked for 4.5 hours. It was actually done in 3.5 hours, but I allowed it to continue to cook for another hour so that it would be closer to dinner time and would keep warm in the solar oven. During that last hour, it browned up very nicely.The day was sunny and bright with a high temperature of  82° F. The oven temperature ranged from 300°F to 325°F.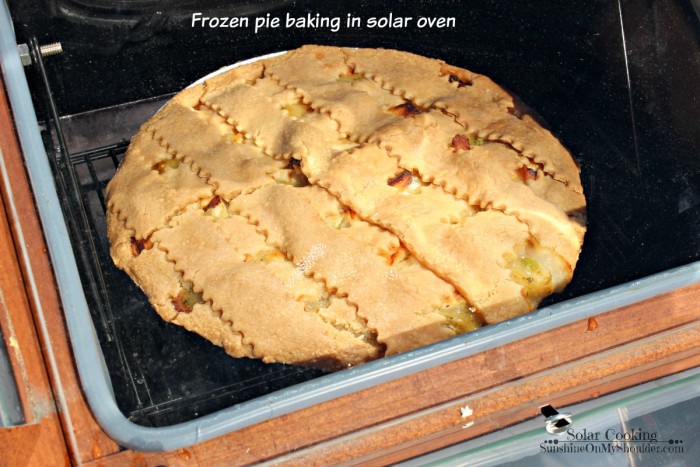 Even though this was a chicken pot pie, the same technique would be used to bake any type of frozen pie.
I would love to hear your comments about baking pies in solar ovens, so please leave me a note in the comment box.