Barbequed Baby back Ribs
Got up this morning and decided to use my solar oven.  As usual, I didn't pre-plan this, so everything was frozen.  But I saw one lonely package of baby back ribs — somehow overlooked and forgotten by my husband the last time he fired up the smoker and fixed ribs (he did 18 racks of ribs that day — how did this one escape the fire?)
We quickly defrosted the ribs.  He then seasoned them with a dry rub (the new one given to him by our granddaughter for his birthday last week) and cut the rack into sections to fit into the pan and covered the pan with the lid.  Usually, he likes to season them and let them rest overnight, but we didn't have time today.
The ribs went into the oven at 9:50 a.m.  They baked for 3 hours and 45 minutes.  Then we took them out of the oven, drained off the juices and fat, and covered them in a bottled barbeque sauce.  At this point the ribs were already  nearly done, and very  tender.  Cover back in place, the ribs went back in the oven for about  2 more hours (although they were probably done sooner.)  Oh my!  The meat was falling off the bones, juicy and tender.  We each had one — then we each came back for another one later — and then we each snuck one again. When it was time for supper, we both had already eaten most of our dinner.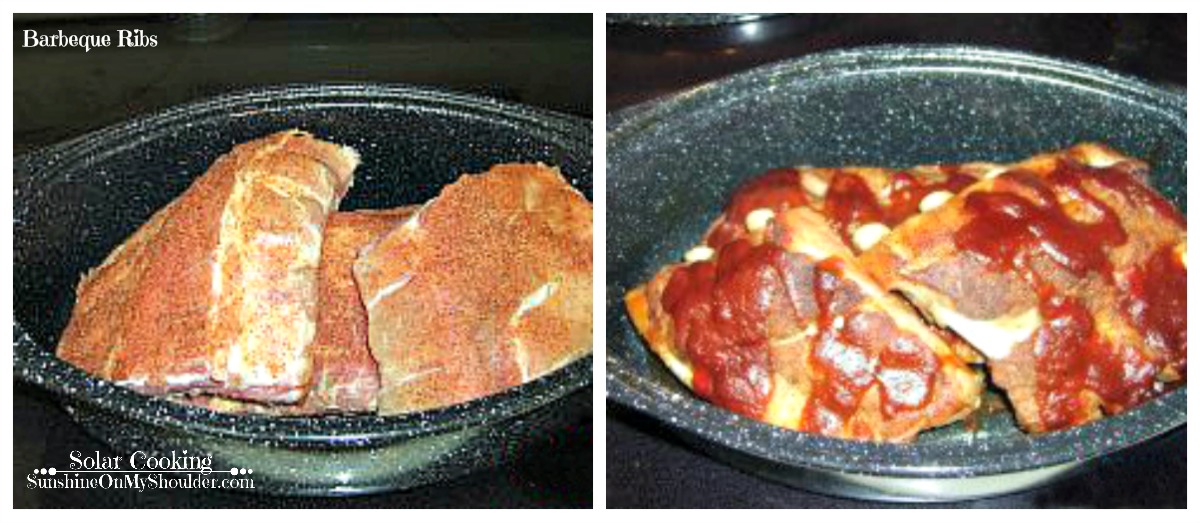 Although my husband said he still preferred the ribs smoked, he agreed these ribs were delicious and a lot easier to cook than babysitting the smoker all day.
BBQ Babyback Ribs
1 rack babyback ribs, cut into pieces to fit pan
dry rub seasoning
1/2 – 1 bottle of BBQ sauce
Cut baby back ribs into pieces to fit the pan.  Rinse and dry.  Rub dry seasoning mix onto the ribs.  Bake in solar oven for 2 -3 hours.  Drain off liquid.  Cover with BBQ sauce.  Bake in oven for 1 -2 hours more.
UPDATE:
Although we still use our smoker to cook multiple racks of ribs, we often cook ribs for just the two of  us in the solar oven.  But we do it a little bit differently.  We still start off with a dry rub. But now we simply put them in a cooking bag and place them on a rack.

When the ribs are nearly cooked, we open up the bag, pour off the grease, and add some barbeque sauce. Then we put them back in the oven to finish and to cook the barbeque sauce onto the meat.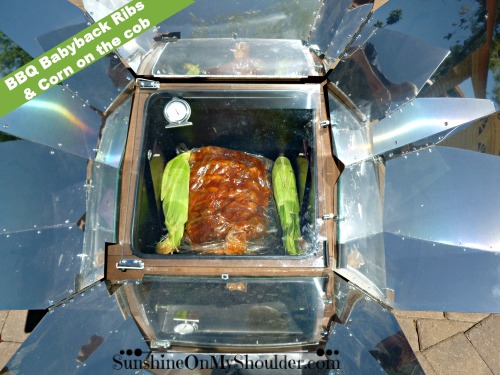 On this day, after putting the ribs back into the oven to finish cooking, I threw in some corn on the cob. To see how I cook corn, click here. Here is how my ribs turned out — falling off the bone tender and finger licking good. UMMM-UMMM!!!
Here is another look at those ribs.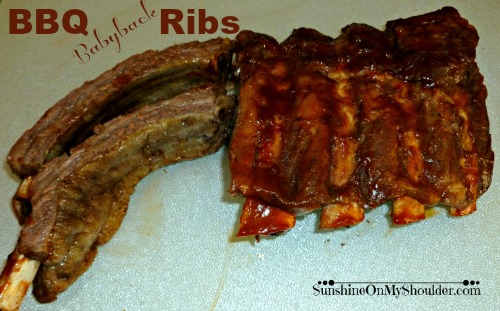 The time it takes to cook in the solar oven will vary depending on the type of oven you are using, and how hot the oven gets. My ribs took about 3 hours on a clear, sunny day with ambient air temperature in the 80's. For more information, see How Long Does it Take To Cook In a Solar Oven.
So Easy!
So Good!
So Solar!