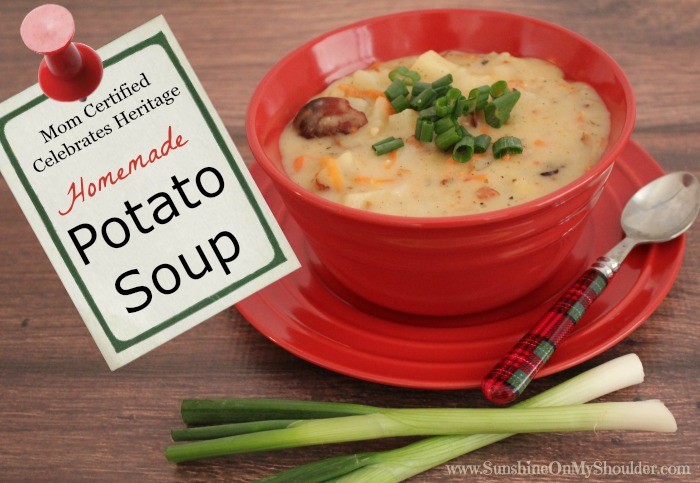 Creamy homemade potato soup is one of those comfort meals that we return to over and over again.  This easy potato soup recipe is loaded with bacon and cheese.  And I really loaded it up with the bacon. See that big piece on top. Umm So Good! But with a few minor adjustments, it can be made gluten free.  I also left out the cheese, making it dairy free as well. Any way you like it, it is simply delicious. The recipe comes from Mom Certified Celebrates Heritage by Tiffany Hinton and Will Hinton, a gluten free, allergy free cookbook.  With my husband on a gluten free diet, I am always on the lookout for recipes that meet his diet restrictions, but still have the taste, texture, and tradition of our family favorites. This is a great recipe for the solar oven. The longer cooking time heats the potatoes all the way though without the fear of them becoming overcooked and mushy. This simple recipe is actually the best potato soup recipe I have ever made. If you need gluten free and/or allergy free potato soup, give this one a try. You will be so glad you did.

Potato Soup
Ingredients
8 slices bacon
1 cup chopped carrots
1 cup onion, chopped
2 jalapenos, seeded & diced (opt)
3 cloves garlic, minced
½ tsp cumin
⅓ cup GF all purpose flour
2½ cups chicken broth
1½ cups almond milk
5 cups potatoes, peeled & diced
½ tsp salt
1¼ cups Swiss cheese, grated
½ cup jalepeno cheese, grated
⅔ cup chopped green onion
Instructions
Pre-heat the solar oven while preparing the ingredients.
Whisk chicken broth and milk together in a large stock pot. Add potatoes and salt.
Cover and place in the pre-heated solar oven to cook.
While the potatoes are simmering in the solar oven, cook the bacon in a large skillet (or solar oven) until crispy. Remove the bacon and set aside. When cool, crumble into large pieces.
Discard all but 1 TBSP of bacon grease from skillet. Add carrots, onion, jalapenos, garlic, and cumin. Saute until golden brown. Stir in the flour and cook for 1 minute more.
When the potatoes are nearly tender, add cheeses, bacon, and green onion. Stir together. Continue to heat until the cheese is melted and the potatoes are fully cooked.
Notes
The length of time to cook will vary depending on the type of solar oven, the oven temperature, and the weather. My soup cooked about 3 hours. The day was slightly cloudy, 64 degrees, and the oven temperature was only 275 - 300 degrees

To cook in a slow cooker, as the original recipe states, simmer for 2 hours and then add the cheese and bacon and let heat until the potatoes are fully cooked.

The bacon can be cooked in the solar oven and the vegetables can be sauteed in the solar oven as well. This time is not included in the above cook time.

For a dairy free recipe, the cheese can be left out and served on the side.