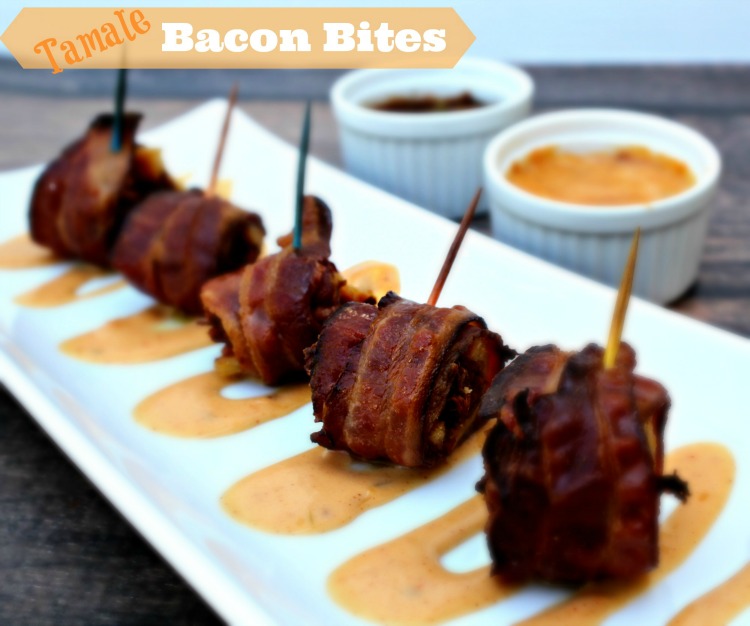 Tamale Bacon Bites is a simple and quick appetizer that can be throw together in a hurry when unexpected guests drop in. Living in the southwestern part of United States, tamales are a favorite with almost everyone.  Tamales are so popular, they can now be found almost everywhere. Tamales came from the ancient Aztec and Mayan cultures, are popular in Mexico and South America, and traveled north to the United States in the late 1800's. Traditionally, a tamale is made using a masa (corn) paste or dough. The dough is spread into a leaf wrapper, usually a dried corn husk or banana leaves, and filled with meat, usually pork or chicken, or cheese and vegetables. Sweet dessert tamales can be made using fruits, such as raisins and other dried fruits. The tamales are steamed or boiled in the wrapper which is discarded just before eating. Tamale Bacon Bites can be made using any type of tamale.
How to Make Tamale Bacon Bites
Tamale Bacon Bites with Chipotle Cheese Dip
Tamale Bacon Bites is a simple recipe that can be thrown together quickly when unexpected guests drop in. They can be made with any type of tamale, beef, pork, chicken, or cheese. Serve with hot Chipotle Cheese Dip.
Ingredients
Del Real Tamales - any type
precooked bacon strips
8 oz Mexican Velvetta cheese - cubed
1 cup Mexiblend Cheese - shredded
5 oz can of evaporated ild
⅓ - ½ cup of Del Real Salsa Roja
1 - 1.5 tsp ground Chipotle Chile Pepper
Instructions
Preheat the oven to 400 degrees.
Unwrap a tamale and cut into 12 bite size pieces.
Wrap a strip of bacon around each bite and secure with a toothpick.
Place the bites on a baking rack and bake in the hot oven for 10-15 minutes until the bacon is brown and crispy.
While the bites are baking, place all of the dip ingredients into a microwave safe bowl.
Place in the microwave and heat on high for 5 -8 minutes. Stir halfway through.
Continue heating until the cheese is melted.
Serve the bacon bites and Chipotle Cheese Dip while hot. Serve with Del Real Salsa Roja.

This can also be a solar cooking recipe. See
Bacon Wrapped Appetizers
for full solar cooking directions.
Be sure to check out some of my other easy appetizer recipes. Do you love tamales?
Disclaimer: I was provided a party box of Mexican food by Del Real Foods.