Swiss Steak served over a hot bed of rice, with a green salad on the side, is one of my favorite comfort foods.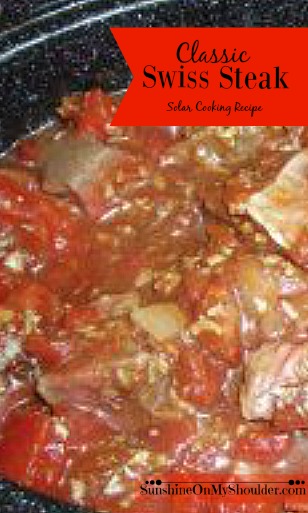 Swiss Steak is a hearty meal, but is simple to make. Swiss Steak can be made with just about any type of beef. It is also good made from venison or elk. The long slow cooking time is perfect to help tenderize a tough cut of beef. And the flavorful sauce compliments rice, pasta, or potatoes.
I used to cook this all day in the crock pot, because I like the meat to be very tender and falling apart into pieces.  But I have found that my solar oven can cook this delicious meal just as good, and even faster than my crock pot.
Swiss Steak
I start with a tender cut of beef.  I usually use small sirloin roasts, because it is often cheaper and definitely more tender than round steak.  On this day, I was making a double recipe, so I used about two pounds of sirloin, cut into cubes.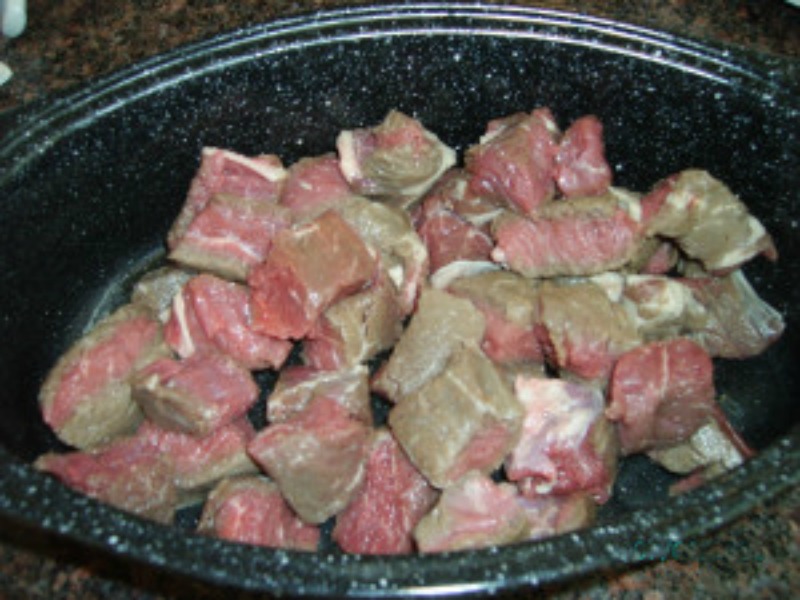 Then I added two 15 oz cans of diced tomatoes with chilies, and two packets of onion soup mix for seasoning.
This slowly simmered in the solar oven about 3 hours.  When done, the meat was falling apart and there was plenty of sauce to pour over a bed of rice. Yummy!

Classic Swiss Steak Recipe for Solar Cooking
Classic Swiss Steak is a hearty meal, but is simple to make. It is a great dish to cook in a solar oven, crock pot, or pressure cooker.
Ingredients
1 lb roast cut into cubes (sirloin, rump, round)
15 oz can stewed tomatoes (with chilies if desired)
1 pkg onion soup mix
Instructions
Pre-heat the solar oven while preparing the ingredients.
Cube the roast and place in a solar safe pot.
Add the stewed tomatoes and the onion soup mix. Stir to mix well.
Cover and place in the hot solar oven.
Simmer for 2 - 3 hours until the meat is fork tender.
Serve over rice, noodles, or potatoes
Notes
The time it takes to cook in a solar oven depends on the temperature of the oven which will vary depending on the type of oven being used, and the weather.
If you enjoyed this recipe, please check out some of the others below.