Four basic types of solar cookers can be found on the commercial market today. If you are new to solar cooking, trying to decide which one is best can be a challenge. In the end, the best one for you depends on your needs.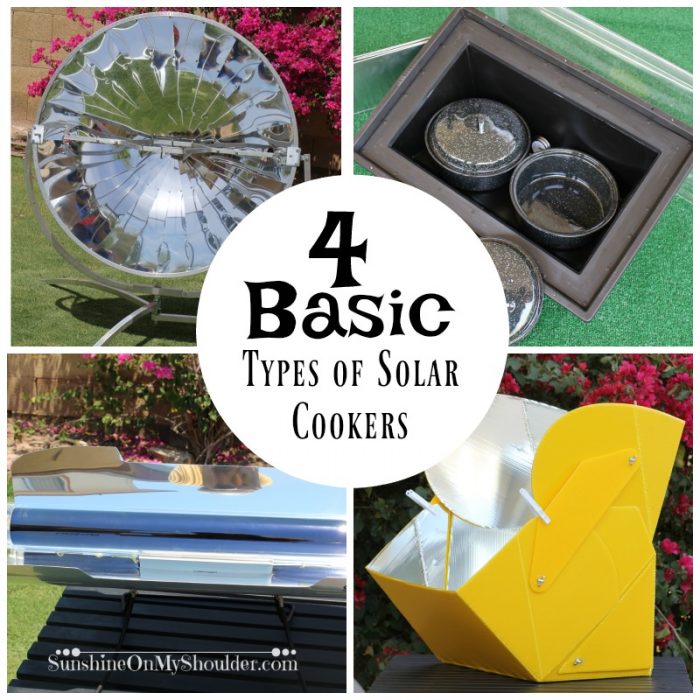 First let's begin with the definition of solar cooking. Just exactly what is it? Solar cooking is any method that uses sunshine as the fuel to heat and cook food. Solar cooking does not use electricity, gas, propane, butane, wood, charcoal, dung, or anything else. Under the right conditions, solar cookers trap and concentrate UV rays from the sun into heat high enough to cook food.
Four Basic Types of Solar Cookers
There are four basic types of solar cookers – panel cookers, box cookers (sometimes called box ovens), parabolic cookers, and tube cookers. Each of these basic types of solar cookers meet a specific need and specific type of cooking.
Panel Cookers
Panel cookers resemble an open, three sided box.  The bottom and side panels of the box are covered with shiny material creating reflectors. The sun rays hit the shiny panels and are redirected into the center of the box.
A "heat trap" is used in the center of the box to capture the sun rays.  Heat traps can be made from anything that is clear and allows the UV rays to pass through. Common heat traps are clear cooking bags used to cook turkeys; large glass bowls with one turned upside down on top of the other; and a small, clear jar placed inside of a larger clear jar.
The dark cooking container is placed inside of the heat trap.  When the redirected UV rays hit the pot, the molecules begin vibrating which creates heat. The heat trap prevents the heated molecules from dissipating, creating a super heated vessel. Temperatures reach 250° F (121° C) – 300°F (149°C). This type of cooker is good for general cooking of soups, meats, vegetables, casseroles, and desserts.
All Season Solar Cooker Review
Box Oven Solar Cookers
The box oven is the most well known type of solar cooker. It is very much like the panel cooker above, except that the open side is covered by clear glass or plexiglass, creating an air tight heat trap or oven in the center of the box.  Commercial brands, as well as homemade models, have a layer of insulation between two walls that holds in the heat. In addition, the inside of the box is usually painted black to create a heat sink as well.  Finally, most box oven cookers also have large shiny panels to redirect the UV rays down into the heat trap.
Because the center cavity of the oven is usually larger than the heat trap found in the panel cooker, the box oven can hold a larger cooking pot. Because the center cavity of the oven is well insulated, it can reach higher temperatures than a panel cooker. Temperatures reach between 250° F (121°C) – 400°F(204°C).
By and large, even with all of the differences, panel cookers and box ovens are very much the same. Because the solar oven gets hotter, it will of course cook faster. However, given a little bit of extra time, the panel cooker will produce the same amazing results.
What Can Box Ovens and Panel Cookers Cook?
Both types of cookers cook slowly, much like an electric slow cooker. In general, they can cook anything that can be simmered in a slow cooker; roasted in the oven; cooked in the microwave; or cooked on the stove top (except for frying.)
Parabolic Solar Cookers
Parabolic solar cookers are shaped like parabolic satellite dishes.  The dish is covered with a shiny material that makes the entire surface reflective. In short, sunlight comes into the dish and is reflected back up to a center focal point. A cooking vessel is placed above the reflective surface at the focal point. The concentrated UV rays reach extremely high temperatures of 500°F ( 260°C) – 700°F (371°C) that are capable of frying, and grilling.
What Can Parabolic Solar Cooker Cook?
Because of the high temperatures, parabolic cookers can fry, grill, and even pop popcorn.
Sun Chef Parabolic Solar Cooker Review
Evacuated Tube Cookers
Evacuated tube cookers are fairly new on the market, but are quickly becoming everyone's favorite. Made from a large evacuated glass tube, surrounded by shiny reflector panels, the glass tube can reach temperatures of 550°F (290°C) or greater. The cooker gets hot enough to cook meat, bread, vegetables, and dessert.
Evacuated tube cookers are still solar cookers and need the sunlight to cook, however, the tube cookers does well even under cloudy skies.
A note of caution: Glass is glass and all normal precautions regarding heated glass must be observed. DO NOT pre-heat the glass tube prior to cooking. DO NOT put cold food into a hot glass cooker. DO NOT leave an empty tube cooker focused to the sun.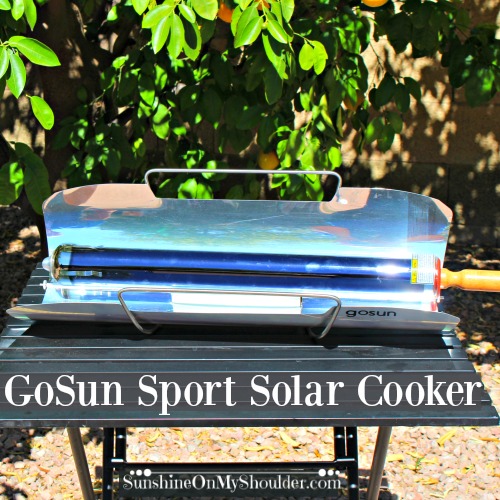 GoSun Sport Tube Solar Cooker Review
Make It Yourself Types of Solar Cookers
Those are the four basic types of solar cookers on the market today. But if you would like to make your own, here are some ideas to get you started.
The Copenhagen Solar Cooker is a brilliant design and easy to make at home.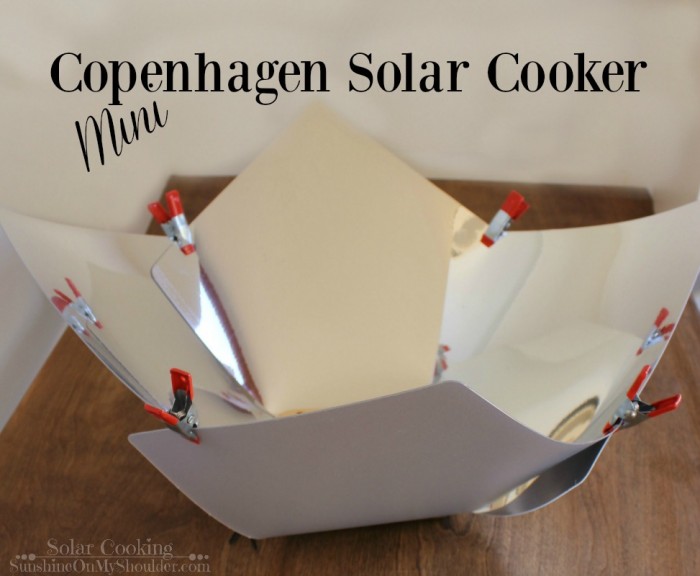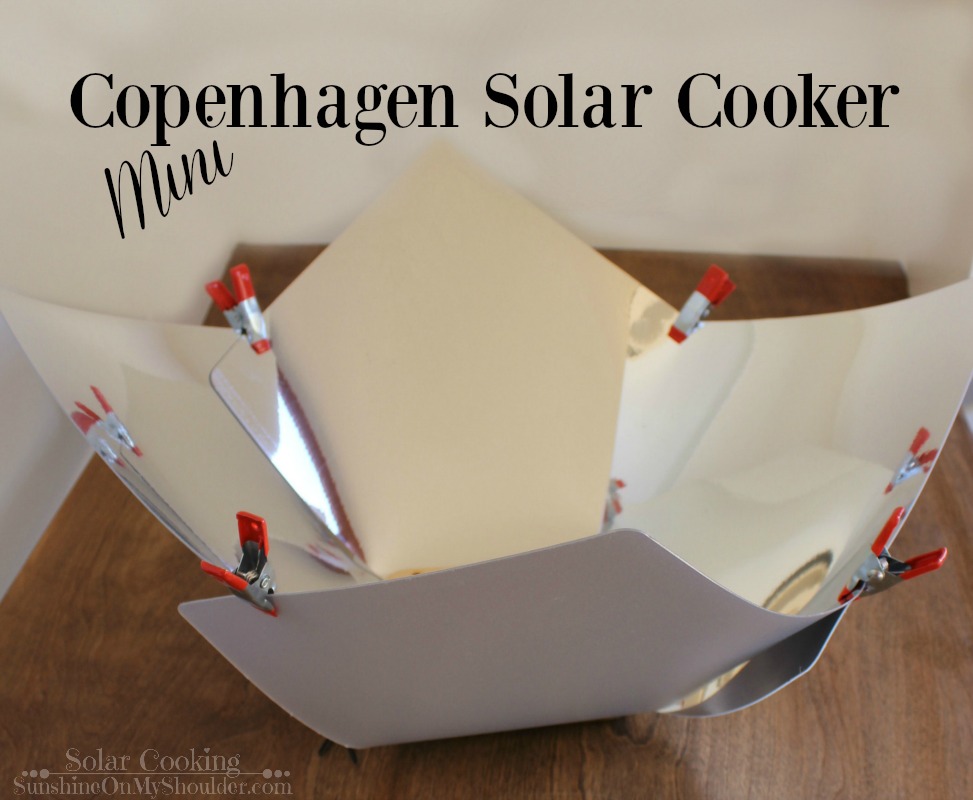 Copenhagen Solar Cooker Review
Or make an easy cooker from a folding silver windshield sun shade. Yes, this really works.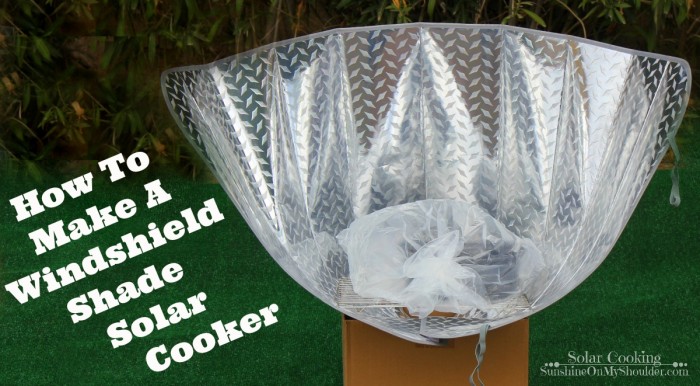 How To Make A Windshield Shade Solar Cooker
And finally, if you feel a bit more industrious, try making some of these designs.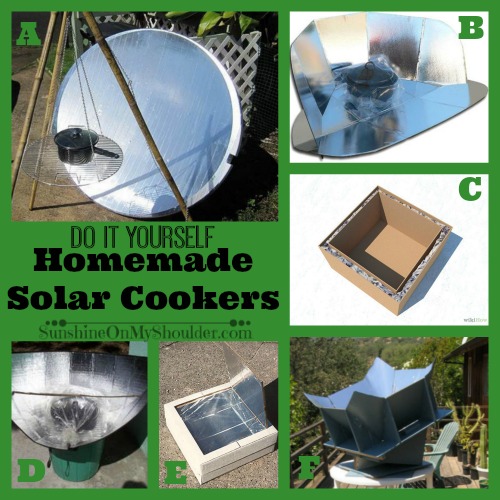 DIY Solar Cookers
Which One is Best For You
Before you buy an expensive solar cooker, give some thought to how you wish to use it. Will it just be in the backyard or do you need something portable. Will you be baking and roasting or do you need the high temperatures of a parabolic to fry and grill. Think about your budget to determine how much you can afford. Are you handy with making things? All of these factors help you determine which one is the best fit for your purpose and budget.
In conclusion, if you have never solar cooked before, try a simple project like the Copenhagen or the Windshield shade. They are inexpensive, easy to make, and cook very well.
Which solar cooker do you have? I would love to hear about your solar cooker and why you chose it so please leave me a comment below. Thanks for solar cooking with Sunshine On My Shoulder.